Maths and Sport: Countdown to the Games
'Maths and Sport: Countdown to the Games' is an exciting project from the award-winning Millennium Mathematics Project at the University of Cambridge.
To celebrate London 2012 we developed free online mathematical resources exploring maths and science through the Olympic and Paralympic Games. Resources include activities designed to develop problem-solving and mathematical reasoning skills for students aged 5 to 18 (UK Key Stages 1 to 5) and articles aimed at older students and the interested general reader.
In addition this site includes a number of video maths challenges, produced with input from us by BBC Two Learning Zone. We have also developed a collection of activities on Maths and Football in collaboration with Arsenal in the Community.
You can find our articles and activities, arranged by Key Stage, using the tabs at the top of the page, or view content by sport or topic.
In addition to our free online resources, we also developed a Maths of Sport Roadshow which can visit schools for a hands-on maths event.
---
| | |
| --- | --- |
| Can you match these records and measurements to the correct event at the Olympic Games? This activity invites students to engage with units of measurement and orders of magnitude, and is aimed at secondary students at Key Stage 3. | How many different football team formations can you find? This activity was developed in collaboration with Arsenal in the Community and provides an engaging real-life context to investigate simple combinations. It is aimed at Key Stage 3 students. |
| Can you work out which Olympics athletics event each anonymised graph of Olympic records data represents? This activity, aimed at Key Stage 3 (age 11-14), gives students the opportunity to make sense of graphical data and challenges them to apply their own knowledge about athletics to explain and interpret key features of the graphs. | Is it possible for Usain Bolt to improve his 100m world record? Why are there so many scoring mechanisms in sport? How can simple maths help us understand sporting movements? Professor John Barrow explores these questions and more in a series of videoed lectures, originally given for Gresham College, aimed at a general audience. |
---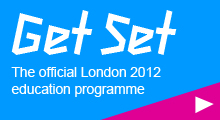 'Maths and Sport: Countdown to the Games' was awarded the Inspire Mark, the badge of the London 2012 Inspire Programme. The London 2012 Inspire programme recognised exceptional and innovative projects directly inspired by the 2012 Olympic and Paralympic Games. 'Maths and Sport: Countdown to the Games' was also part of Get Set +, the London 2012 education programme.

Our 'Maths and Sport: Countdown to the Games' project has been funded by grants from the Nuffield Foundation, the Royal Commission for the Exhibition of 1851, and the award of the Gresham Prize by Gresham College. We are very grateful to all for their generous support. Also inspired by London 2012, the Nuffield Foundation developed a set of cross-curricular STEM activities for 11-14 year olds, Nuffield STEM Games, and Gresham College organised a series of free public lectures on Mathematics and Sport.